The Getaway hotel, located in downtown Carmel-by-the-Sea, works diligently to ensure that our guests have the most enjoyable stay. We offer the following ADA accommodations to our guests during their stay, and online during their booking process. If you have any questions or concerns, please contact the hotel directly at 831.624.3864 and a front desk host or manager will be available to assist you.
PROPERTY ACCESSIBILITY FEATURES
32-inch wide openings to common areas
Accessibility equipment for the deaf
Accessible guest rooms with 32-inch wide openings
Accessible registration check-in counter
ADA accessible guestrooms on ground floor
All doorways to and within accessible guest rooms are wheelchair accessible
Grab bars in public bathrooms
Ground floor hotel entrance
Hotel corridors a minimum of 36" wide
Main features of hotel accessible on ground floor
On-site designated accessible parking
Registration desk is accessible
Roll-in ADA showers available
Service animals allowed
TDD telephone
Van accessible parking
Wheelchair accessible
GUEST ROOM ACCESSIBILITY FEATURES
Wheelchair accessible
Service animals allowed
Hearing impaired light alerts with kit
Lowered closet bars and shelving
TDD teletype – can provide upon request
Visual alarm equipped
Closed captioning television
Communication kits available with TTY machine, strobe light, & visual door knocker – upon request
BATHROOM ACCESSIBILITY FEATURES
Grab bars in shower with a shower seat
Low level towel hooks and racks
Removable shower head
OPTIMIZED BOOKING EXPERIENCE
The Getaway site has been designed to conform to WCAG 2.0 Level AA compliance as specified by the Web Content Accessibility Guidelines 2.0.
Site developed to enable tabbing directly into booking engine for purchasing.
The WCAG 2.0 AA Guidelines are evolving and we strive to comply with these guidelines. Please contact us immediately at (831) 625-5222 if you have any issues with this website. We will make efforts to update page(s) and ensure their accessibility to comply with ADA standards.
IMAGES VISIBILITY
Content images include descriptive ALT attributes and graphics include null ALT attributes.
ALT attributes for both images and links are revealed on mouse hover.
SCREENREADERS
The Getaway website booking experience is optimized for screen readers.
SPRINGBOARD HOSPITALITY ACCESSIBILITY STATEMENT
This accessibility statement ("Statement") applies to Springboard Hospitality, its subsidiaries and all of the hotels within the Springboard Hospitality Portfolio of Brands1 (collectively, "Springboard Hospitality," "we," or "us"). At Springboard Hospitality, we strive to deliver outstanding products, services, and experiences. We value your business and, more importantly, your loyalty. We recognize that accessibility for all is an important issue.
The Springboard Hospitality Portfolio includes, Airtel Plaza Hotel, Banyan Harbor Resort, Best Western Orlando Gateway Hotel, Best Western Plus at Lake Powell, Best Western Sonoma Winegrower's Inn, Carriage House Las Vegas, Chamberlain West Hollywood, The Getaway, Grafton on Sunset, Harbor Court Hotel, The Hideaway, Hotel Renew, Hotel Winters, Jackson Hole Lodge, Montrose West Hollywood, Le Parc Suite Hotel, Marin Suites Hotel, Maui Beach Hotel, Ohia Waikki, Pacific Monarch Hotel, Plantation Hale Suites, River's Edge Hotel & Spa, Royal Grove Waikiki, Studio City Court Yard, Super 8 Tempe, Virginian Lodge, Volcano House, White Sands Hotel, Hilton Garden Inn Denver Airport, Hilton St. Louis Frontenac, SFO Airport Hotel El Rancho Inn Signature Collection, Sedona Rouge Hotel & Spa.
Springboard Hospitality strives to maintain compliance with the World Wide Web's Consortium's Web Content Accessibility Guidelines 2.0 Level AA (WCAG 2.0 AA) on our website, and:
* We have built our website using standard-compliant HTML and CSS
* We have ensured that the website content is structured in a logical manner using informative headings and labels where relevant, and are usable by customers who use assistive technology/screen readers.
* We have provided consistent navigation across the website
* We have ensured that images have alternative texts and descriptive links.
In addition, we offer rooms with accessibility features, which may be booked through springboardhospitality.com and any of our portfolio of hotels brand websites.
Please be aware that WCAG 2.0 AA Guidelines are evolving and our efforts to comply with these guidelines are ongoing. If you would like to report any accessibility issues, please contact us at ada@olshotels.com or phone us at 818-905-8280. We will make all reasonable efforts in order to update the page(s) and ensure their accessibility.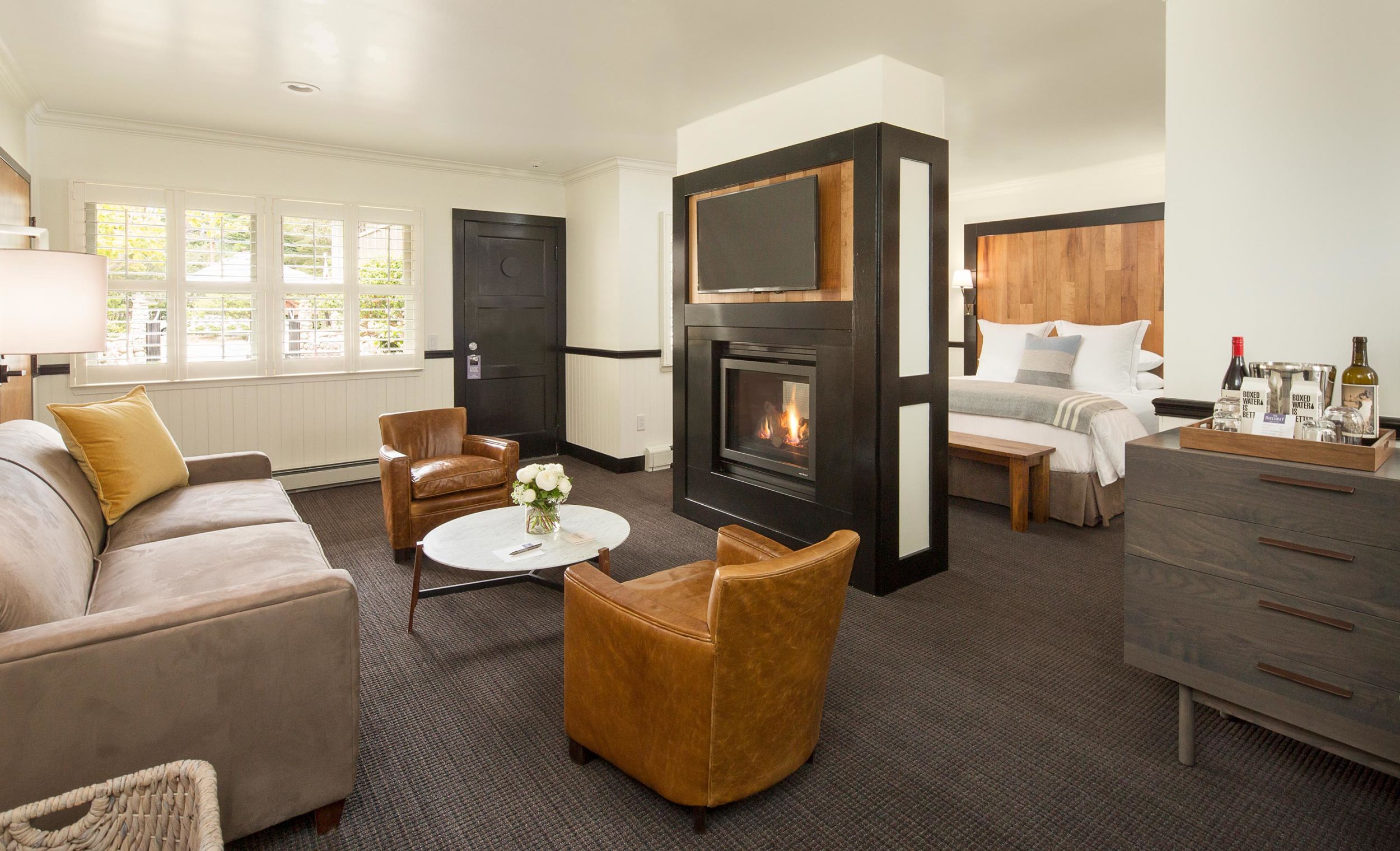 Our rooms
Casual Elegance, Incredible Comfort
With beds by the Denver Mattress Company, leather club chairs, and fireplaces, our accommodations invite you to settle in and enjoy. We are also pet-friendly!
view our rooms